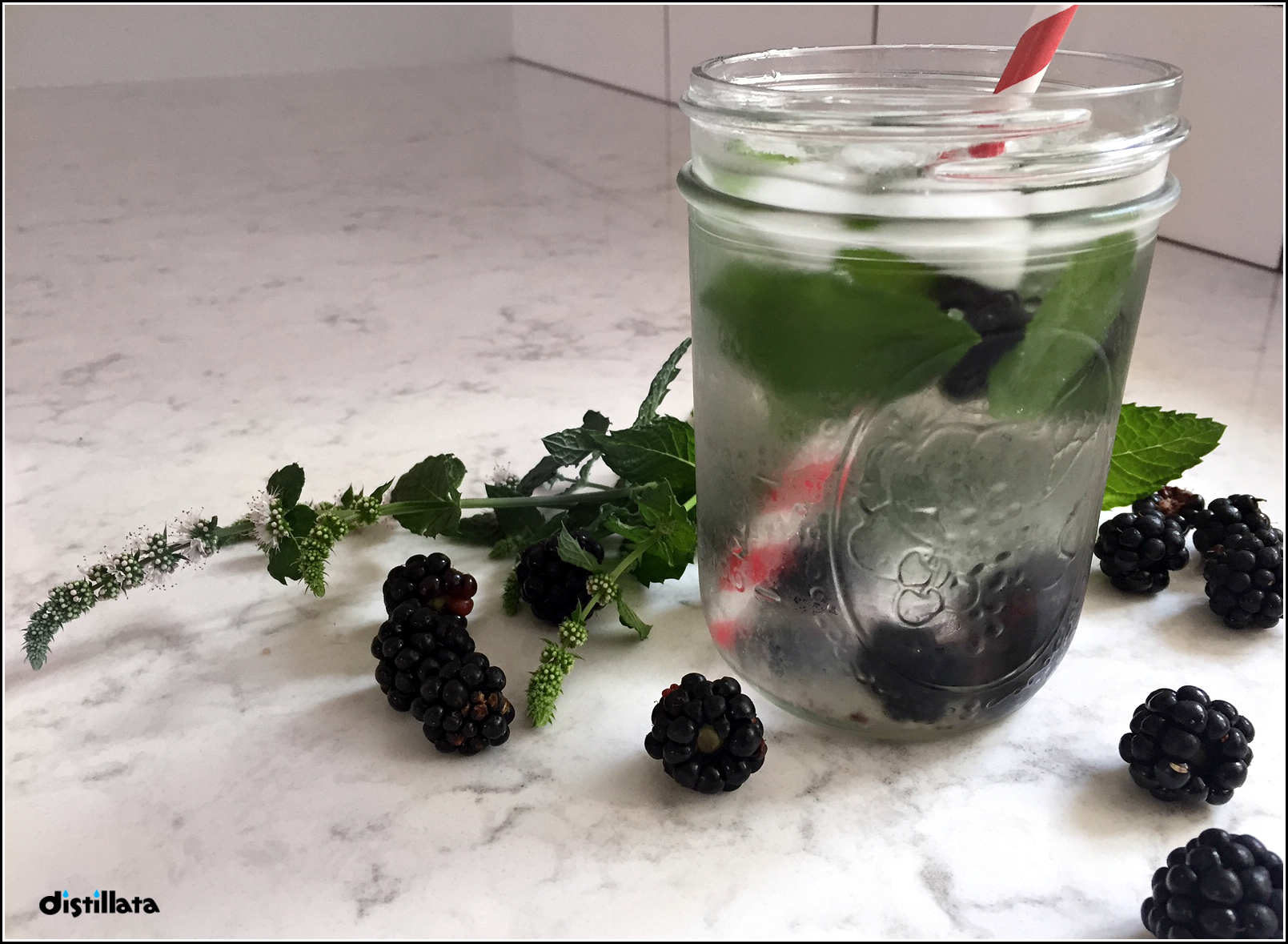 I do not have a green thumb. In fact, I have whatever the exact opposite of that is. Currently, on my porch sits a disturbingly brown hanging basket and two flower boxes that I have not watered all summer. It just isn't my thing. However, there are two species of flora that I have found will grow despite my complete lack of attention to them- blackberries and mint. These things grow like weeds. My mint plant comes back larger every year and my blackberry bush is churning out bowls full of the delicious fruit every day. Using these abundant treasures is a welcomed challenge and one of my favorite ways is to make blackberry mint infused water.
Infused waters are an excellent way to increase your water intake. Even I get a bit tired of plain ol' H2O now and then; the slight hint of natural flavor in these concoctions is a welcomed change. Drinking fruit infused water is a great way for soda lovers to transition away from from the fizzy stuff to healthier hydration (Tip: if you simply must have something carbonated try using sparkling water). In addition to all the benefits of drinking more water, infused versions take it up a notch by adding nutrients and oils from your ingredients of choice.
For example, blackberries provide high levels of vitamins C, A, E, K, and D. They are swelling with antioxidants, fiber, minerals, polyphenols, and phytochemicals [1]. The benefits of this low-calorie fruit include: cancer-fighting properties, improved brain health, reduce inflammation, fight infections, boost immunity, help with cardiovascular health, and they are great for your skin [2].
Mint aids in digestions, can calm nausea and headaches, clears breathing issues, serves as a stimulant, aids in memory loss, may help increase weight loss, excellent for oral health, and offers cancer-fighting properties [3].
Perhaps the most appealing feature of fruit infused waters is the ease of making them. These refreshers come together in no time.
You will need:
1 small handful of blackberries
5-6 mint leaves
ice
water
Directions:
Add the blackberries to a mason jar.
Muddle them slightly by gently moving them around the jar with a straw or spoon.
Muddle the mint leaves by rubbing them between your thumb and first finger.
Add the mint leaves to the mason jar.
Fill the mason jar with chilled water from your cooler or filter.
Cover the jar and place in the fridge for at least two hours*.
*Two hours is the minimum steep time that I would recommend; it is preferable to let the infusion sit overnight.
Viola! You now have an ice cold, slightly flavored water to sip throughout the day or as I prefer with a meal. I like to make at least two jars at night to enjoy the following day. There is a myriad of possible flavor combinations. You can pick pretty much anything that sounds good to you. I love to change my combinations as the ingredients become seasonally available. Strawberry-basil is astounding earlier in the summer, soon we will be approaching apple cinnamon time, and then citrus in winter. Follow your taste buds, and I am sure you will come up with a favorite as well.
Happy hydrating!
Additional resources:
Thank you:
[1] http://foodfacts.mercola.com/blackberries.html
[2] https://draxe.com/health-benefits-blackberries/
[3] https://www.organicfacts.net/health-benefits/herbs-and-spices/health-benefits-of-mint.html